The sea breeze on a warm summer's day
cannot compare to the passion
on a dark winter's solstice
in the treacherous high seas
when the lighthouse beams
are hidden by the tumultuous waves
of wild abandon as she craves
my submission for Poetry Potluck Week #48
Can you see the Fremantle Doctor blowing in from the sea? Well , we could not actually see him, but we felt him blowing ...yes, the Fremantle Doctor is the name that has been given to the sea breeze as it gives you relief from the summer sun! We not only met up with that good doctor, we also met up frequently with his colleague who also cools you from the sun; I've named her Mistress Shower as she keeps showering us every half hour or so! My photographs of Fremantle were all taken on one same day, but you can see a mixture of sunny skies, and threatening clouds , and also totally wet scenes...beautiful weather!
The Indian Ocean! Yes, you are looking at the Indian Ocean. The Swan River actually flows into the Indian Ocean here in Freo (that's how you refer to Fremantle when you are there long enough to be familiar with her). This is how the sea looked when we got there in between the showers.
It got darker after a while, but it didn't rain , so I had the good fortune of spotting this perfect outcrop of white rocks behind which I could take a shot of the contrasting dark blue sea. That hole where the wild flowers were positioned was just too, too lovely. A nice touch to the composition, don't you think?
The sea was getting darker, making the white boats at Fishing Boat Harbour look vividly picturesque.
The waves were gentle, and not a threat to anyone who would venture in for a swim.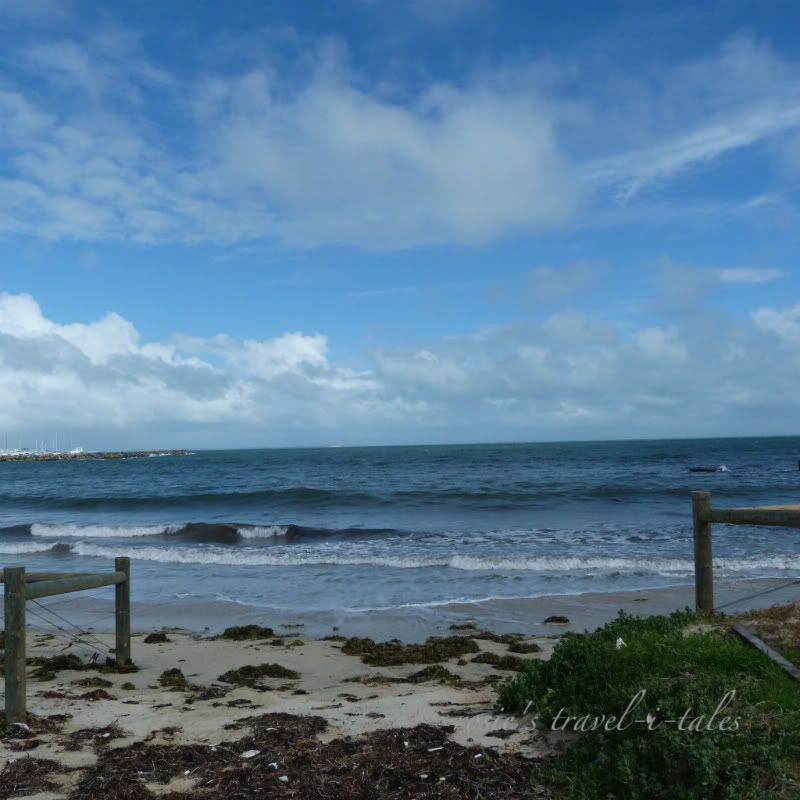 This is where you could make your way to the beach known as Bather's Beach. There weren't any bathers there that day...guess the intermittent showers kept them away. Besides, this was winter time.
This photograph of the same area as the one before this, was taken only about 20 minutes apart. This was taken when we arrived at the beach, when it was sunny. Mark the difference.
We took a walk to the Fishing Boat Harbour in search of food. Well, you can't go to Freo without sampling their famous fish and chips, oysters and mussels, can you?!
See how the sky has darkened? We strolled along the boardwalk, looking for somewhere to have our lunch. There are many popular eateries at this deep water harbour. We chose to eat at Kaili's Fish Market Cafe, favourite
alfresco dining spot of the native population of seagulls, I believe.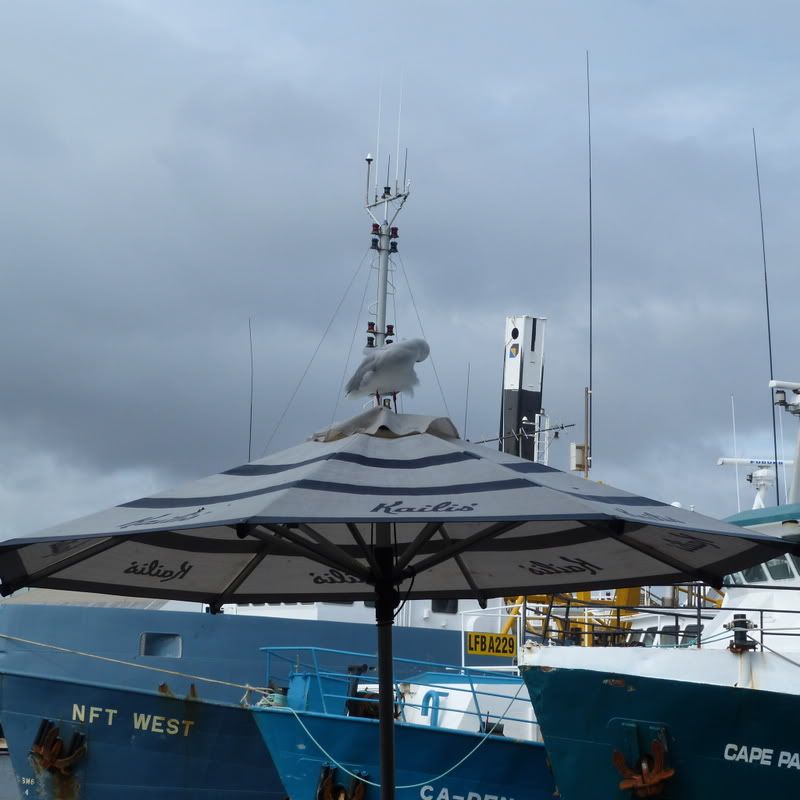 There's one satisfied customer after a heavy meal on top of the umbrella. Do you see him?
By the way, it rained just after we finished our meal.
I'm glad you visited this post, and that I could share the joy of my visit to Freo with you.
More Freo sights to come in the following posts.
Linking to:
Watery Wednesday
Outdoor Wednesday
Share The Joy Thursday
Skywatch Friday
Poetry Potluck